Covent Garden, London – 25/11/23– With the Maskura Smart Weighted Hula Hoop, it's easier than ever to pursue a better and more active lifestyle. With the help of this cutting-edge training equipment, you may enjoy a variety of health advantages that set it apart from conventional workout regimens in addition to having fun.
The Maskura Smart Weighted Hula Hoop, offered by Maskura, combines the nostalgia of hula hooping with the modern marvels of technology, offering a comprehensive approach to fitness and well-being.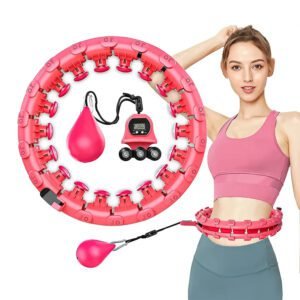 Health Benefits of Using Maskura Smart Weighted Hula Hoop:
Cardiovascular Health: Using the Maskura Smart Weighted Hula Hoop to hula hoop is a great way to work out your heart and increase circulation, endurance, and heart health.
Core Strengthening: By using weighted design, the user can strengthen and stabilise their core muscles. This relieves lower back discomfort and helps with posture as well.
Calorie Burning: Take advantage of a fun and exciting method to burn calories, which will help you stay in shape and control your weight. The weights on the Maskura Smart Weighted Hula Hoop may be adjusted to provide a targeted burn of calories.
Balance and coordination: Using the hula hoop regularly improves balance and coordination, which is important for preventing injuries and maintaining general physical health.
Mental Health: Exercise releases the "feel-good" hormones called endorphins. Hula hooping is a fun and interesting sport that lowers stress and improves mental health.
Low-Impact Exercise: Because the Maskura Smart Weighted Hula Hoop is soft on joints, people of all fitness levels, including those with joint issues, can use it.
"Health is not just about the absence of disease; it's about living life to the fullest," said Nazmus Sadat, Managing Director at Maskura."With its unique blend of exercise, fun, and outcomes, the Maskura Smart Weighted Hula Hoop is meant to promote a holistic approach to health and well-being."
To explore the numerous health benefits of the Maskura Smart Weighted Hula Hoop and how it can contribute to your overall well-being, you need to use smart hula hoop and start your fitness journey. 
Contact Details :
Maskura Fitness
71-75 Shelton Street, Covent Garden, London,
England, WC2H 9JQ
Call : +447520640786
Mail : maskurafitness4u@gmail.com
Web : https://www.maskura.co.uk/
Facebook : https://www.facebook.com/maskurareal
Instagram : https://www.instagram.com/maskura_official/
About Maskura:
Maskura aims to provide you with innovative fitness solutions. Maskura follows the motto " Tag Value To Life" to achieve customer satisfaction by making them happy with the products they want at a very convenient cost. Maskura always tries to bring new fitness equipment which will benefit the users in real and they will get a positive result by using that equipment as an outcome.  We provide cutting-edge workout equipment that enables people to reach their health and fitness objectives because we are committed to making fitness a pleasurable and essential part of peoples' lives.